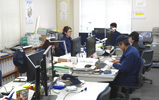 We are specialized for stamping press machines and ancillary equipments in sales and service, also various work support. Here we introduce some of our support works


About our company, please see this page!

If you have any questions about machines or others, let us know from this page.

随時募集中です。詳しくはこちらへ(日本語)

Our job offer has finished. Thank you!